EAGA has recently embarked on a joint Energy Performance Contracting (EPC) program – the first of its kind in the Australian Local Government sector.
A fundamental element of the EPC process is that the savings are contractually guaranteed by the energy services company (ESCO). EPCs typically include a holistic set of energy efficiency, renewable energy and distributed generation measures across a suit of facilities that are capable of delivering sufficient savings to finance the full cost of the project. Savings delivered by the project after the repayments are complete will be retained and may be reallocated towards other Council priorities.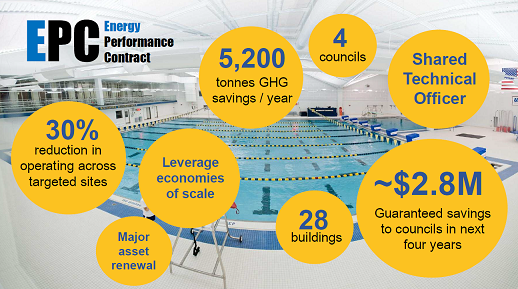 Through working together in a joint process, EAGA Councils aim to:
Streamline market engagement process through a single Expression Of Interest (EOI) and Request for Quotation (RFQ) process
Generate sufficient scale to attract more responses from interested ESCOs
Capture cost savings through reduced project management fees and costs associated with the Detailed Feasibility Study (DFS) and Monitoring and Verification (M&V) stages
Generate implementation efficiencies through information sharing across participating Councils
Yarra Ranges, Maroondah, Boroondara and Knox are the first members to initiate the EPC process. A dedicated staff member (the EAGA Major Energy Project Officer) has been employed to manage the project's implementation. As additional councils begin their own EPC process in subsequent years, they will be able to access the Major Energy Projects Officer and share in associated costs.
| Milestone Date | Description |
| --- | --- |
| October 2016 | Public Expression of Interest |
| November 2016 | 3 Contractors short listed (Honeywell, Schneider & EcoSave) |
| December 2016 | Short listed contractors begin Request for Proposal site visits |
| March 2017 | Request for Proposal responses received |
| April 2017 | All 4 councils indicte their intention to contract Detailed Facility Study to EcoSave |
To find out more, please contact our EPC Major Energy Projects Officer here.