In recent years, EAGA councils have made significant progress in reducing their corporate greenhouse gas emissions from their own operations, particularly in council buildings, leisure centres and fleet.
However, the reality is that council corporate emissions only account for approximately 1% of a municipality's entire emissions.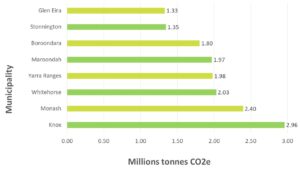 To help guide councils in reducing their community's emissions, EAGA is currently developing a Community Net Zero Emissions Strategy to help assist councils to prioritise community emissions reductions opportunities across the region. It is hoped that a proactive approach at the council level, will inspire both communities and other governments to take further action to reduce community emissions.
To find out more, contact EAGA Project Officer, James Conlan here.